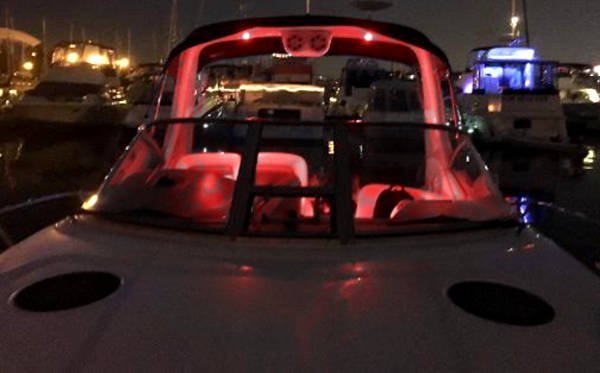 Great boat cockpit lighting takes a little bit of art, a little bit of science, and a good lighting plan.
Art to set a scene. A scene that can be changed in a flash to be what you need it to be at any given moment. Bright when you need to perform a task or dim when you need to navigate back to port.
Science to make light work for you. By putting the right color and intensity of light in the right place, your eyes are able to see clearly no matter what the light level.
A lighting plan to pull everything together. A lighting plan helps you choose the right lights and put them in the right place. Like a good map, it shows you how to get to where you want to go.
Your Map to Better Lighting
Lighting plans show where to place lights to get even coverage. They show where you need low levels of ambient light and where you need extra light for performing tasks. A lighting plan helps you decide what types of lights to buy and how many you need. It will even help you plan how to run the wiring.
Layers of Light
In the first article in this series, I talked about creating layers of light that perform different functions.
Ambient lighting provides low levels of light that let you move around safely.
Task lighting adds brighter light to areas where you perform tasks.
Accent lighting highlights details on your boat and creates interest.
When lighting your boat cockpit you will only use two of these layers, ambient, and task lighting.
Ambient Deck Lights
Ambient light illuminates the deck around the helm and along walkways. You want enough light to see the deck, but not enough to interfere with night vision. The intensity of the light should match other lights in the cockpit. Lower when lights are dim, higher when lights are bright.
LED courtesy lights are a good choice for lighting the deck. Choose fixtures that shine light only on the deck where it is needed. The light should never be allowed to shine directly into the eyes of a person in the cockpit.
White light is a good choice of color. White light allows your eyes to see objects on the deck even with the light dimmed to very low levels.
Cockpit Task Lights
Task lighting is the workhorse of your boats cockpit lighting system. Cockpit lighting needs to be flexible. It needs to be able to provide just the right brightness and color of light in several different situations.
Bright white light when performing tasks such as reading or rigging fishing gear.
Medium levels of light for dining or entertaining.
Low levels of red light that won't interfere with night vision when under power.
Multi-color LED downlights are a good choice for task lighting. Choose fixtures that produce both white and red light. They must be bright enough to read by in white and must be able to be dimmed in red so they do not interfere with night vision.
LED downlights can be mounted to T-tops, hardtops, or arches. They should be arranged in a way that provides even illumination around the cockpit. Extra lights can be added above tables and sitting areas to provide more light.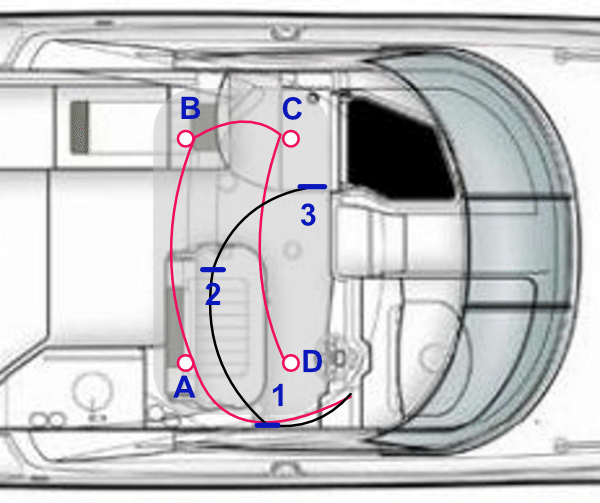 Creating Your Boat Cockpit Lighting Plan
To create a cockpit lighting plan you need a drawing of your boat and a pen or highlighter.
Most owners manuals have a drawing showing the layout of the boat. You can print a copy of that. Enlarging the image will give you a clearer view of the cockpit area.
How to Find an Image of Your Boats Layout
If you don't have your owners manual go to your computer and do a search for boats.com or any other website that lists boats. Search those sites for your boat. Include the year, make, and model.
As an example, I'm going to search for a 2010 Sea Ray 310 Sundancer. I like boats.com because their image galleries show how many pictures there are of each boat. I look for boats with a lot of pictures. Most image galleries have a drawing showing the layout of the boat. Right click on the drawing picture and save it to your computer by clicking "Save Image As…". Pay attention to where you save the image on your computer. You will need to find it in the next step.
How to Print the Image
On a Windows computer click on the window icon in the bottom left corner of your screen then, scroll down to Paint3D. On a Mack go to iPhoto. Click on Open and find the file you just saved.
When the image appears, click on the Crop tool just above it. A box with dots around the border comes up around the image. You crop the image by dragging the dots. Hover your pointer over any of the dots then click and hold the button while dragging the dot. Move the box until it covers the cockpit.
Now go to Menu at the top left, click on that then click on Print. Under Scaling make sure it is set to "Fit to page". Click print.
Now you have a place to plan out where to place the lights and how to run wires for those lights. What this drawing doesn't show is where existing lights are located or how the arch sits over the cockpit. That's easy to figure out just by looking at your boat.
Lighting Plan 2010 310 Sundancer
Here is how I would light the cockpit of this 2010 310 Sundancer.
Looking at the pictures of this boat I see that there is an existing courtesy light to the right of the captain's chair. To the left of the helm are steps leading to the forward deck and a step-down leading to the cabin. This step-down is a hazard at night. It needs a light.
The top of the arch has two downlights towards the back. It looks like they are there to light the aft deck more than the cockpit.
Deck Lighting
Replace the existing courtesy light with a white LED.
Add a white LED courtesy light on the left side of the captain seat pedestal.
Add a white LED courtesy light to the inside of the step-down.
Down Lights
Replace existing downlight on the arch with tri-color LED downlights. (White/Blue/Red)
Add two more tri-color LED downlights towards the front of the arch to better illuminate the cockpit.
I hope this helps you with your boat cockpit lighting. If it does please share it with your friends or leave a comment below.