How many Lumens Do I Need?
Total lumens are important when choosing underwater lights for boats. But they may not be the most important thing. And, without a doubt, they aren't the only thing to think about.
It's one of my favorite things about boating. The almost infinite variety of boats and places to go boating.
Every boat, boater, and body of water is different.
For this reason, no two boats have the same needs when it comes to underwater lights. Even when the boats are exactly the same.
For instance, let's say you have two identical boats. Same make, same model, the same year, and same motor.
The first is used in a deep inland lake with crystal clear water. The owners use the boat for cruising around the lake on weekends. They want underwater lights for sunset cruises and partying with friends under the stars.
The second boat is used on a coastal river where the water is almost always dirty. Even though the owner uses the boat for cruising the river, he also likes to take friends out for a night of fishing.
Even though the boats are the same the bodies of water they boat in are completely different. The owners have different needs as well.
Underwater lights should do two things.
First, the lights should give even coverage across the entire width of the transom. On small boats, this can be accomplished with brighter lights. On large boats and boats with multiple outboards or stern drives, extra lights are needed.
Second, the lights need to be bright enough to create a pool of light at least 6′ to 8′ behind the boat. Boats with a wide swim platform will need a larger pool of light.
Most of all, underwater boat light should fit how you use the boat. As an example, if one of your goals is to attract marlin and swordfish in 3,000 feet of water you are going to need maximum light. On the other hand, if you are trying to attract crappie in 20 feet of water you need less light.
How wide is your boat?
How clear is the water you boat in?
Is it a monohull or multihull boat? How many lights can you fit?
How will the boat be used?
Will you use them for fishing? Deepwater (20′ or deeper), or shallow?
How much light do you want? Enough to look good,
Additional Questions
Freshwater or saltwater?
Do you trailer your boat or does it stay in the water most of the time?
When to Upgrade to Brighter Light
And it's not just the clarity of the water that matters. How deep you mount your underwater lights, whether you have inboard or outboard motors, how many motors you have, and how wide your boat is are all important.
It's also important to think about how you will use your lights. Will you use them for fishing?
With so many boats, in so many different sizes and styles, it can be difficult trying to decide what underwater LED light is best for a particular boat.
An Underwater LED Light for Every Boat
Fortunately, the engineers at Shadow-Caster are boaters themselves. When they designed their first underwater LED light they knew they should not be a one size fits all solution.
For that reason, they designed the first Shadow-Caster lights in three different sizes. The SCM-4 for small boats, the SCM-6 for medium-sized boats, and the SCM-10 for larger boats.
Since then, Shadow-Caster has expanded its product line to fit boater's needs even better. Along with the original SCM line of boat lights, Shadow-Caster now offers the SCR line for yachts and larger boats that stay in the water.
What is the Best Light for Your Boat?
Below are a few things to think about to answer that question.
Do you trailer the boat or does it mostly stay in the water?
What is the boats beam?
Is it inboard, stern drive, or outboard?
How many motors?
Is it a pontoon, catamaran, or plaining/ displacement hull?
Does the boat have a swim platform?
If the Boat is Trailered
In most cases, trailered boats will use the SCM series of lights.
If the Boat Stays in the Water?
Boats that stay in the water most of the time should use the Shadow-Caster SCR series of lights.
How Wide Is The Beam?
Boats with a narrow beam need a smaller light to get even illumination across the transom. As the width of the transom increases, larger, brighter lights are needed to give even illumination. Eventually, more lights are needed to keep illumination even across the transom.
Stern Drive or Outboard? How Many?
The lower unit on sterndrive and outboard motors create shadows that prevent even illumination across the transom. If the boat has a single motor the effects are minimal. However, with twin, triple, or quad engine configurations, more lights will need to be added for even illumination.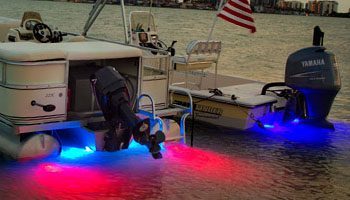 Catamarands and Pontoon Boats
As with any boat, the width of the beam is important. Wider beams require larger lights for even illumination. Pontoon boats with three pontoons have the added advantage of having a place to add a third light.
Learn more about boat underwater lights and how to get the right lights for your boat.