Wow Them With Custom Boat Projects
You've seen em. The boats that blow away all the cookie-cutter boats. If you take two of the same boat, the same make, the same model, and the same year, put them side by side, one would look awesome and the other would look like every other boat at the marina. It's not hard to tell what the difference is, that's obvious. It's the flooring, it's the upholstery, it's the lighting.
The owners of the awesome boat took an average boat and made it their own.
The custom boat projects on this page are designed to do more than make your boat look new again. They will customize your boat to match your personality, your style, and the way you use the boat. Your boat will be more comfortable and better fit your boating needs.
There are lots of different custom boat projects that you can do to improve the way your boat works. I'm not going to cover those here. What I will be covering on this page are the projects that will give your boat the biggest visual impact. Flooring, upholstery, and lighting. These are the projects that will give your boat a true custom look.
Follow the links to find out more on each subject.
Boat Flooring
Today's boat flooring comes in many different styles, colors, and textures. Manufacturers continue to introduce new materials and new styles that are comfortable to walk on, long lasting, and beautiful to look at. This guide will introduce you to what's available and where to buy.
Boat Flooring Buyers Guide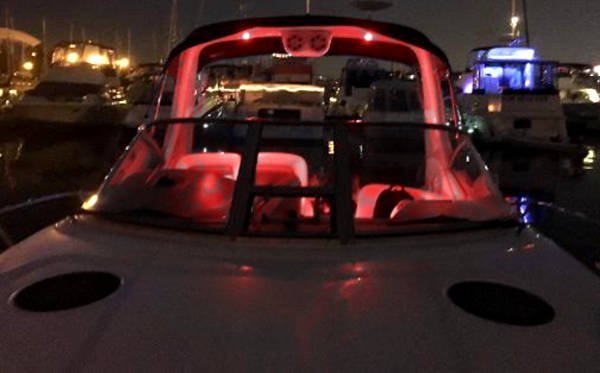 LED Boat Lighting
The invention of LED lighting was a real game changer for boaters. LED lights use only about 10% of the energy older lights used. So now you can add all the lights you need without worrying about running down your batteries. This allows you to create layers of light on your boat that make it safer, easier to use, and look really cool.
How to Light Your Boat Like a Pro
Boat Cockpit Lighting Done Right
Boat Reupholstering
Marine vinyl is amazing stuff. It looks good for many years even though it has to endure some of the harshest conditions imaginable. UV rays, suntan lotion, spilled drinks, and lots of use takes a toll on your boat vinyl. Eventually, it wears out. And when it does, your boat looks bad.
When it's time to replace your boat upholstery read this list of sources I've put together to help you have boat upholstery you can be proud of once again.
Have Boat Upholstery You Can Be Proud Of
I hope the articles on this page will help you with your boating projects. I will be adding more articles soon so please bookmark this page and come back regularly. If you have found these articles helpful please share this page with other boaters on your favorite social media website. If you have any questions or need more information on any of these subjects, feel free to leave a comment below.