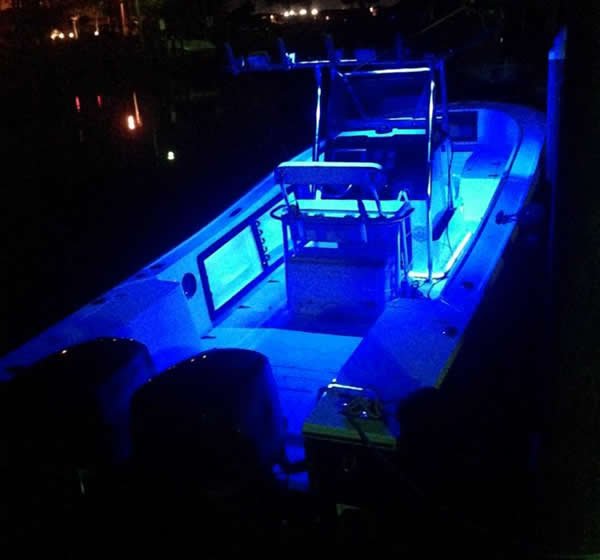 Light Up Your Boating Life with LED Deck Lights
Your boat is a reflection of you. When it shines, you shine. So when it is time to upgrade your boat lighting why settle for just "adding light"?
Whether you are out for a night of fishing, cruising with friends, or spending a romantic evening under the stars, LED deck lights put you in control of your environment. Add light where you need it, not where it will fit, with Shadow-Casters line of compact and ultra-thin deck lighting products. Then control all your lights through the Shadow-Caster 4 Zone Controller or your Garmin® OneHelm.
Shadow-Caster LED deck lights are built in the U.S.A. for boaters by boaters. The compact design is almost invisible during the day. But at night, they allow you to transform your boat with awesome lighting effects that you control.
SCM-DL
Down Lights
Compact Design
Bright, Even Light Coverage
Dimable
White, 2 Color, or RGB
SCM-AL
Accent Lighting
Color Changing RGB
Control Color and Intensity
Flexible and Thin
Easy to Install
SCM-CL
Courtesy Lights
Compact and Ultra Thin
Great for Coves, Compartments, Livewells
White, Blue, Green, Red
Stainless Steel or White
Color Changing LED Strip Lights
Color Changing LED Strip Lights
Change the look and feel of your boat with the push of a button. Entertain your friends on a rocking evening cruise one night then spend a romantic evening with your first mate the next. You are in total control of the color and intensity of your boats lighting when you combine Shadow-Caster LED strip lights with the SMC-ZC Zone Controller. (Sold Separately)
LED Courtesy Lights
Safety Should Not Hurt
Add light where you need it without adding bruises to your legs. Shadow-Caster LED Courtesy lights are so thin you won't know they are there until you need them. They come in your choice of colors, Bimini Blue, Aqua Green, Cool Red, Great White, or color changing. You also get to choose whether your light has a white or stainless steel finish. They measure only 3″ long x 0.78″ wide x 0.1″ thick and are submersible. They are a great way to light your bait well, accessory boxes, or other compartments on your boat. RGB models need to be used with the ALC controller.
Accessories