SCM-AL
RGB Boat LED Strip Lights
Thin, flexible, and waterproof.
Can be trimmed to fit your exact needs.
Requires a Shadow-Caster Light Controller. (Sold Separately)
SCM-DL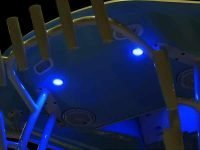 Boat LED Cockpit Lights/ Interior Boat Lights
Powder Coated finish won't scratch, chip, or fade.
Compact size, 2″ across 1/4″ thick, fits almost anywhere.
Colors: White, Blue/White, Blue/Red, RGB
Change Colors and Dim Through a Standard Switch
SCM-CL
Safety Shouldn't Hurt
SCM-CL has three big advantages over the competition.
LED Courtesy Lights
At only 3″ long x 0.78″ wide x 0.1″ thick you'll forget it is even there. Until you need it of course. There's almost nothing to bump into or snag a fishing line on.
The LEDs are along the bottom edge. The light shines on the deck where it is needed. Not in your eyes.
Dimmable. You will always have the perfect amount of light.
The SCM-CL is perfect for lighting steps, accessory boxes, storage compartments, and even your livewell. They are submersible, with an IP65 rating, and measure only 3″ long x 0.78″ wide x 0.1″ thick. They come in your choice of colors, Bimini Blue, Aqua Green, Cool Red, Great White, and even color-changing (RGB). You even get your choice of a white housing, to blend with your gel coat, or stainless steel if you want something dressier.
One color and Color Changing LED Boat Deck Lights
LED boat deck lights: See what your doing and look good doing it.
LED boat deck lights have two main jobs.
Light a space to make it safe to move around.
Put light where it is needed to perform tasks.
But it dosen't hurt that they make your boat look amazing as well!
The Right Light for the Job
There are three different types of LED boat deck lights.
Courtesy Lights light the deck and changes in elevation. They make it safe to move around without interfering with night vision.
Down Lights mount to hard tops, T tops, and arches. They add extra light for reading, eating, or rigging tackle.
LED Strip Lights provide general lighting. Their main job though is to make your boat look amazing.
Controlling LED Boat Deck Lights
Controlling LED boat deck lights depends on whether they are single color/two color or RGB.
Single color and two-color (courtesy light and downlights) are controlled through a standard On/OFF rocker switch. Two-color downlights can even change colors and be dimmed with a regular switch.
RGB light require a Shadow-Caster light controller. The good news is that there is a light controller for almost any boat and any budget.
SCM-SNLC: Budget-friendly, it controls all of your boats RGB lights through a single switch.
SCM-ZC: Control four zones of lights, separately or together, through an easy-to-use command center.
SCM-MFD-Kit: Control six zones of lights through your boats multi function display.
Accessories