$549.99
Checking Out With Paypal
IRIS Colors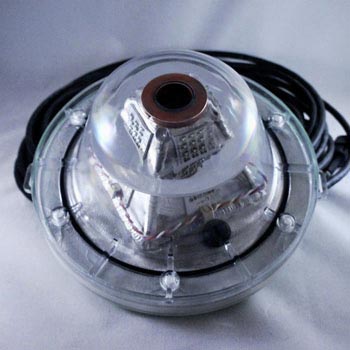 Apollo IRIS: Two Color Dock Light
If you could make your dock look awesome, be safer to use, and turn it into your own private aquarium in less than 10 minutes would you do it?
The Apollo IRIS is an easy way to add two-color underwater LED lights to any dock, pier, or seawall.
Adjust the weight so the light so it will float 2′ or 3′ below the waters surface.
Throw the light and weight into the water.
Plug the cord into a GFCI receptacle.
The water instantly comes alive in a ball of light up to 40 feet across. If you are unhappy with the location of the light unplug it, pull it out of the water, and place it in a different location.
Your Own Backyard Aquarium
You'll buy it for how it looks but you'll love it for all the fish it attracts. The Apollo IRIS creates an aquarium in your back yard with a two-color ball of light up to 40 feet across. An amazing 16,000 lumens of light attracts fish like crazy while using a measly 40 watts of power. The patent-pending internal water cooling system maximizes LED light output and life expectancy. Advanced circuitry protects the LED's from harm and allows them to operate at peak efficiency.
LED lights last an incredibly long time. The LEDs used in the Apollo 40 IRIS have an unbelievable 100,000-hour life expectancy. That's over 30 years when run 8 hours a night, 365 days a year!
They are super-efficient also. The 40 watts of power they use adds only $1.46 a month to your electric bill. (Based on 240 hours a month, $0.12/kwh)
Best of all, this is a plug-and-play system. Simply place your light in the water at your desired depth, plug the cord into a GFCI outlet and enjoy!
This is what you get.
Up to 16,000 Lumens of Light.
40′ Power Cord
A Built In AC to DC Power Supply With Internal Electronic Overload Protection
A 3 lb Weight For Anchoring Your Light To The Bottom
Weight Strap
Instruction Manual
One (1) year limited warranty for all workmanship and materials
Cost to Operate
When used 10 hours/ night @ $0.12 per kWh the Apollo IRIS will cost you…
In clear water, the Apollo IRIS produces a pool of light up to 40′ across that attracts fish, makes it easy to identify our dock when returning by boat at night, and lights up your dock making it easier to get in and out of your boat in the dark.
Ready to Order?
At the top of the page choose your outer color and your inner 'IRIS' color and click on the green "Go To Secure Checkout" button. A shopping cart will open on the right side of the page. If you want another light in different colors, choose your colors and click on the green button again. You can add as many lights as you want in the shopping cart.
Clicking the Gold PayPal button takes you to the PayPal website where you can complete your order using your PayPal account or a credit card. You DO NOT need to have a PayPal account.