About the MegaWatt
The MegaWatt is a floating LED underwater light for boat docks, piers, and seawalls. At 22,000 lumens it's incredibly bright. It's also easy to install taking less than 15 minutes from the box to enjoying. There are three fish-attracting colors, blue, green, and white, along with red and orange at an additional cost.
Underwater LED Dock Light
22,000 lumens of LED light. Super bright and efficient.
Creates a ball of light up to 60 feet across.
Colors: Blue, Green, White. (Red and Orange available at an extra cost.)
Go from the box to completely installed in less than 15 minutes.
Adjustable Depth. Works as well in 15′ of water as it does in 5′.
Add extra power cord or weights to fit your needs.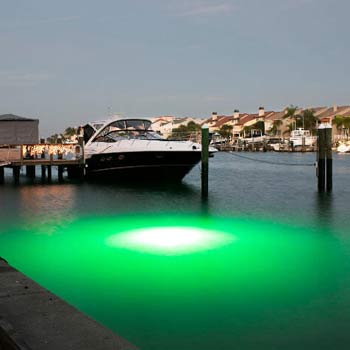 Features
Up to 22,000 lumens (White)
Creates a ball of light up to 40′ across.
Colors: Blue, green, white. (Red and orange available at additional cost.)
Adjustable depth. Light floats in the water column.
Plugs into a standard 110-volt receptacle. (Always use GFCI outlets.)
The driver converts 110 volt AC power to much safer 24 volt DC power.
Cost to operate per month: Around $2.30 at 12¢/kWh
Freshwater or saltwater.
Specifications
Light Size: 12″x12″x12″
Power Cord: 40′ standard. Lengths up to 240′ available.
Driver: AC to DC with built-in overload protection.
Weight: 1, 3 lb weight standard. Additional weights are available.
Cable Strap: Prevents damage to where the power cord and light meet.
Instruction Manual
1 Year Warranty (Extended Warranty available)
Made in the USA
Light Controllers