Two underwater lights might not be enough. Yachts, boats with wide beams, and boats with multiple outboards often need three or four underwater lights.
Underwater lights should create a pool of light that covers the full width of the transom. On an average boat, two lights will do. But if your boat has a wide beam or multiple outboards, you will need three or more lights.
Wiring Through a Switch
The biggest problem when wiring underwater boat lights are that the more lights you add the more wires you have running through your boat. Connecting them through a switch also becomes a concern. Especially when adding more powerful lights.
First of all, there is the problem of connecting three or four lights to one switch. This can be done if the installer knows what they are doing, but may require a high amperage switch. Second, it increases labor and materials costs.
It's All About Amperage
The bigger issue is the amperage rating of the switch. Most rocker switches have a rating of 20 amps at 12 volts. To handle inrush current, the switch must be rated to twice the continuous current of the lights.
For example, an SCM-10 underwater light draws 3.5 amps @ 12 volts. Three lights would draw 10.5 amps and require a switch rated to 21 amps. One amp more than a standard 20 amp rocker switch can handle. This problem gets even worse with more powerful lights such as the SCR-16 (5 amps @ 12 volts), or SCR-24 (7.5 amps @ 12 volts).
In addition, each light needs its own fuse. This can be done with inline fuses but adds to the cost of materials and the number of connections.
Above all, this setup only allows you to turn the lights on and off. It can only be used with single color lights.
Wiring Underwater Boat Lights Has Never Been So Easy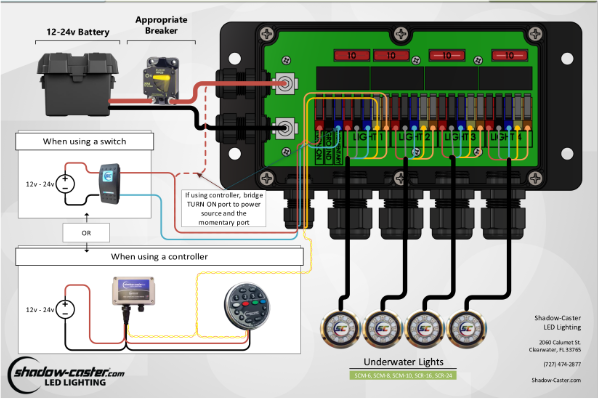 The SCM-PD-Relay-4 power distribution box solves all of these problems and more.
First, this compact, watertight box mounts in a convenient location near the back of the boat. It cuts back on the number of wires running through your boat.
Second, the box draws power from a nearby fuse block or positive bus bar and is grounded through a negative bus bar.
Third, cables from the underwater lights are wired to the box through cable glands. The cable glands tighten down to hold the cables firmly in place and seal out moisture.
Additionally, each light gets it's own fuse and set of snap-down connectors. The connectors are color-coded to match the color of the light wires. Wiring is almost foolproof and needs only two connectors. You save on labor and materials.
Finally, a momentary switch at the helm controls the lights. Because the box gets power through a local source, not the switch, a low power switch and wire can be used. The momentary switch not only turns single color underwater lights on, but it can also be used to dim, fade, flash, and strobe them.
For color changing lights, an SCM-ZC or SCM-MFD Bridge can be wired to the SCM-PD-Relay-4. Again, all wire connectors are color-coded making wiring a breeze.
Does A Power Distribution Box Really Matter? Short Answer, Yes!
If you are installing several underwater lights you need an SCM-PD-Relay-4 power distribution box. It keeps your wiring neat and protects it from moisture. It makes wiring underwater lights easy and saves money on labor and material costs. Single colored lights can be controlled with a momentary switch and color-changing lights can be controlled with the addition of a light controller.
The SCM-PD-Relay-4 is not your only choice when it comes to power distribution for underwater boat lights. Shadow-Caster makes a full line of power distribution boxes to fit your needs.
SCM-PD for up to 6 single color underwater boat lights.
SCM-PD+ for up to 6 color-changing underwater boat lights
Buy your SCM-PD-Relay-4 today!
Want to learn more about wiring underwater lights? Take a look at the other posts.
Underwater Boat Light Wiring Done Right
How to Wire Underwater Boat Lights